Applies to: Create aesthetic logos for apps, products, and businesses.
Complex Level: Easy
Supported OS: Windows and macOS, Mac OS X, Linux, and iOS.
This page covers everything you need to know about aesthetic design in 2022. You just need to follow this guide, and you'll be able to design a stunning aesthetic logo for your products or business with a reliable logo maker here. 
What Is an Aesthetic Logo
Aesthetic logo, which comes with the idea of related to beauty or a sense of appreciation for beauty, is now widely regarded as a beautiful logo. The aesthetic logo reflects the idea of trending, fashion, peace, or even love with personalized designs. Businesses, products, apps, and even services can all apply aesthetic logos as their signals.
So how to create an attractive and popular logo and grab peoples' attention? How to convey the concept of your product and services to your clients? Reliable aesthetic logo maker tools are dependable and trustworthy for you to try. EaseUS LogoMaker, with its tremendous aesthetic logo gallery, is here to help. With this tool, you can practice your logo ideas and generate an interesting and beautiful logo successfully.
It doesn't matter if you are green in logo designing. Follow the tips below and learn how to design a stunning and fabulous aesthetic logo immediately. 
Trending Aesthetic Logo Types in 2022
The very most essential tip for both sophisticated designers and ordinary people who have no logo designing skill is that the logo should reflect the concept of the product, apps, or services. Also, to be creative, you can try some unique types for your logo as listed here:
1. Vintage
Vintage style is a classic aesthetic logotype that endows a historical and trustworthy sense. It doesn't require dedicated design and carries a nostalgic feeling towards its target clients. Brands tend to prefer this type as their logos for food, juice, essential oil, etc.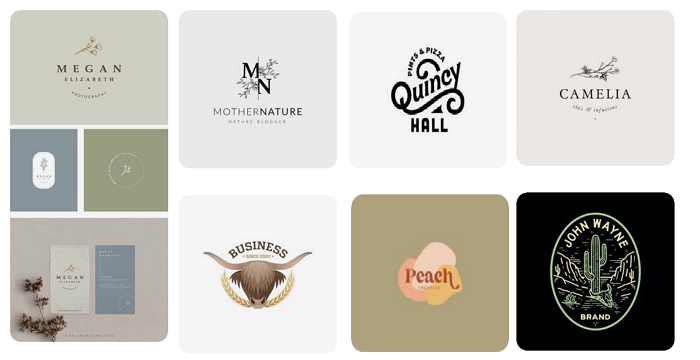 2. Pink
Pinks are popular in aesthetic color palettes and now have become a trending style in designing aesthetic logos and icons for a product or service. This style of the aesthetic logo conveys a sense of tenderness, carelessness, and inner peace. It works well in branding desserts, cosmetics, kids and baby-care products, luxuries, and some non-profit organizations.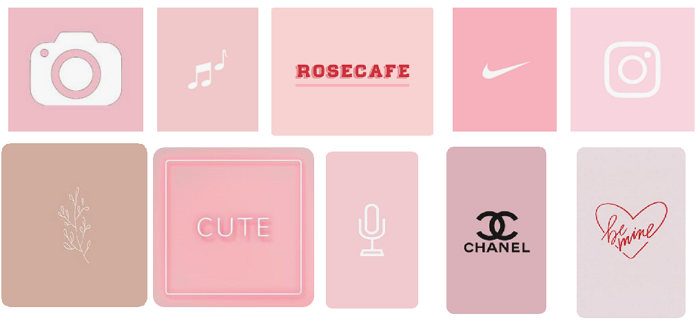 3. Hand-Writing/Hand-Lettering
Hand-writing or hand-lettering style conveys a concept of perfectly imperfect. It easily captures clients' attention with uneven hand-lettered fonts and invites people to join the branding product or services. Hand-writing aesthetic logos are popular in bakeries, book stores, coffee shops, cafes, barbershops, etc.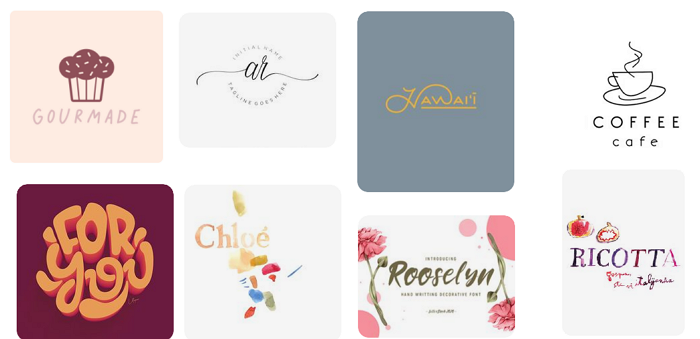 4. Cute/Kawaii
Cute or kawaii style is one of the most widely used types in aesthetic logo design. This type of logo is basically designed with cartoon icons and characters that go along well with your product or service concept. Cute aesthetic logos are mostly used for branding foods, coffee, pets care centers, fruits, games, etc.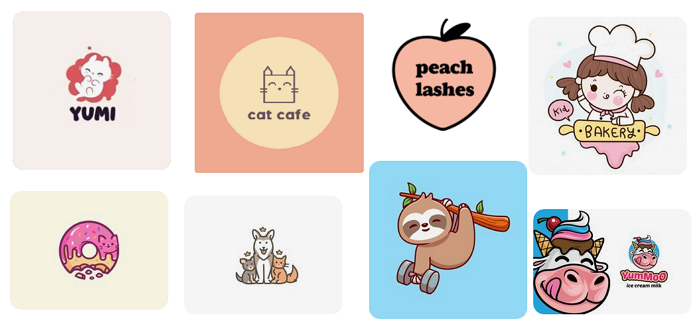 Tips to Make An Aesthetic Logo Pleasing
It doesn't complete yet after deciding which type suits your product the most. It would help to practice your ideas to make the aesthetic logo pleasing. To do so, you have EaseUS Logo Maker to test and generate a perfect logo for your products here.
So how would you make your logos pleasing? Here are some tips that you can try out:
Icon: Select the logo icons that stand for your product or service concept. You can also combine the icons with the aesthetic logotype you've decided on above. 
Color: Aesthetic logo color palettes are not typically restricted. Note that to make the aesthetic logo stand out, we highly suggest you set a pure color like white or light pink, light brown, or so as the background color. You can use pink, orange, yellow, black, blue, even purple, etc., as the main logo color. Combining contrast colors with logos can always help your logo exceed competitors. 
Fonts: In selecting the fonts of your logos, you need to select fonts that are recognizable and readable in all sizes. Sans Serif, Curves, and even fonts with round corners are all acceptable. 
How to Design Your Aesthetic Logos with EaseUS LogoMaker
Note: It doesn't matter if you don't get a desired aesthetic logo for your product. You can always feel free to apply EaseUS LogoMaker to practice and combine icons, colors, and fonts over gain and gain until you create the perfect logos.
Here we'll present you with a complete step-by-step guide of how to create a fascinating aesthetic logo for your brands, products, apps, and stores successfully. Follow steps here, and let's get started here:
Step 1. Choose a Template
Choose a category and select the shape that you like the most from thousands of templates.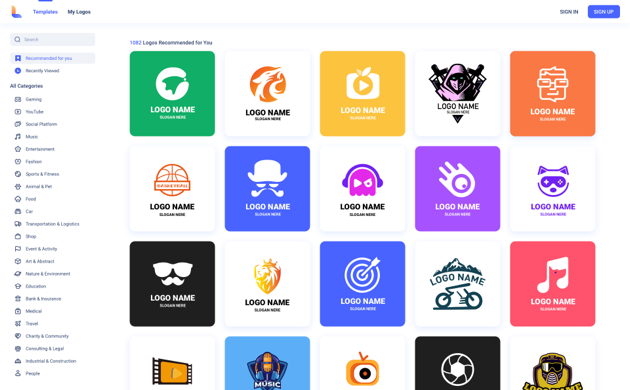 Step 2. Create & Customize Your Own Logo
Enter your brand name, set the color, font, and typography to make your logo unique.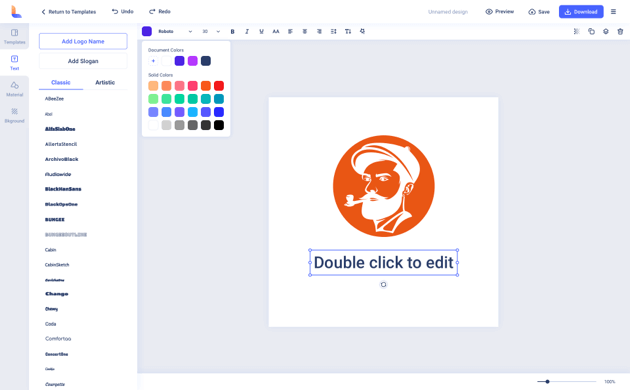 Step 3. Preview and Save
Preview or re-customize your logo. Once you get the desired logo, save and download it to start branding your product.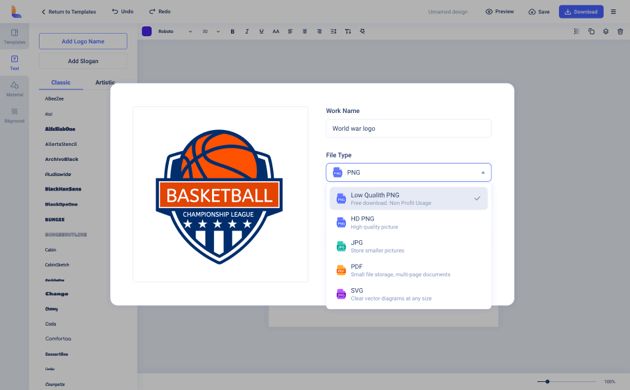 Designing Aesthetic Logos for Your Brands Can Be Easy and Enjoyable
We collected the newest four types of aesthetic logos for you on this page and presented the newest ideas of aesthetic logo designing. You can follow the full tips to make your logos beautiful, communicative, pleasing, and expressive in branding. 
Also, it doesn't matter that you know little about logo designing. As long as you pick an efficient logo designing tool like EaseUS LogoMaker, you can always trust and create perfect logos for your products and business on your own.