Sans-serif, also known as Sans Serif, a typeface without serif, is dominated by geometric lines, straight lines, sharp corners, with merely no changes in thick lines. Thanks to its clarity, legibility, and simplicity, Sans Serif font stands out in logo making, branding, printing, and even web designing fields.
Here are some famous brands with their logos that use Sans Serif fonts: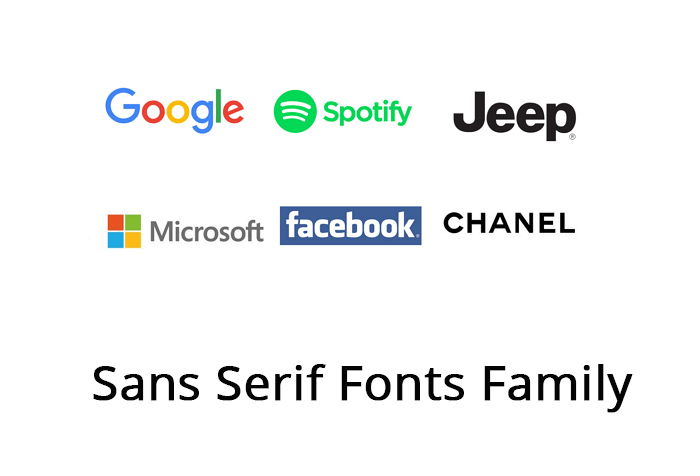 What Is Sans Serif Font?
Sans Serif is an opposite font type that looks more futuristic and modern compared with Serif font. A Sans Serif font doesn't have dashes at the end of each letter, for example, Roboto.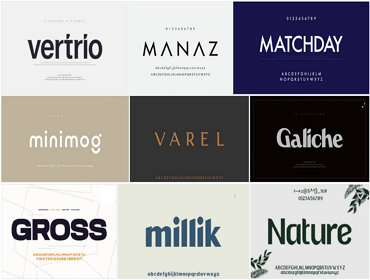 Note that Sans Serif is not just a simple text font but a serial of different fonts that could be used for logo designing, product branding, book or newspaper printing, and even website designing. 
Sans Serif could be classified as the following types of fonts:
Grotesque: an original Sans-serif font, consists of bold font structure with a sharp contrast of stroke thickness. 
Neo-grotesque: a modern sans-serif font, balanced in stroke thickness, being strict and neutral in structure. 
Humanist: a font without serif, lines are soft, stroke thickness varies in decorative lines. Conveys a sense of elegance and classic.
Geometric: a font that is made of geometric form, with neat lines and arcs, expressing a sense of beauty and modern fashion. 
When to Use Sans Serif Fonts?
It doesn't matter that you don't know how to identify the differences between the above 4 types of Sans Serif font. There are also some sub-fonts in the 4 main font types and you don't need to know what is each font used for.
Keep this in mind: You only need to care about what is your goal, and which font is good for extending your goal, for logo making, product branding, web designing, or something else. 
When you are having any one of these goals, you are about to use these soft, rounded, clean, simple, but expressive Sans Serif fonts. Especially for some fashion brands, designers would prefer to use Sans Serif fonts for getting rid of tradition in favor of modern clarity and emotional impact.
What Is a Good Sans Serif Font?
While selecting a Sans Serif font, you may have a doubt about 'what is a good Sans Serif' font or which font to choose, right?
The key is to select a font that impresses you the most, which could convey a unique sense with your product or company name. Also, you should consider whether the font is easy for your client to read on a board or a book.
So here are some basic tips for you to select a good Sans Serif font:
Unique
Impressive
Communicative
Readable
Recognizable
So what is the best Sans Serif font? Check the below list, you'll get an example of the 15 best Sans Serif fonts in 2021.
15 of The Best Sans Serif Fonts in 2021 [Designers' Pick]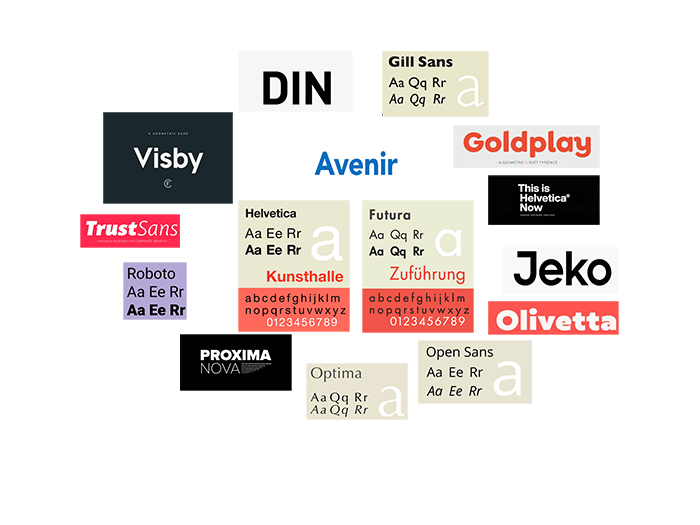 1. Avenir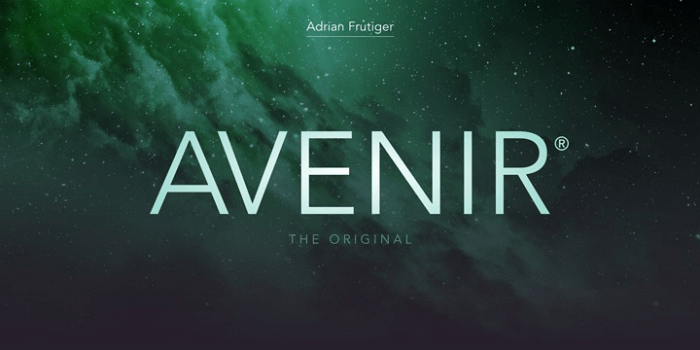 Avenir is a stylish font family designed by Adrian Frutiger in 1988. Once released, it became a top choice among worldwide graphic designers. Avenir becomes unique as it's not simply limited to geometric form. Instead, it focuses on visual concentration, extending a humane, soft feeling, and it's legible for reading. 
Used for: Graphic design, apps, manuals, or directory for books.
How to get it: https://dl.freefontsfamily.com/download/avenir-font/
2. DIN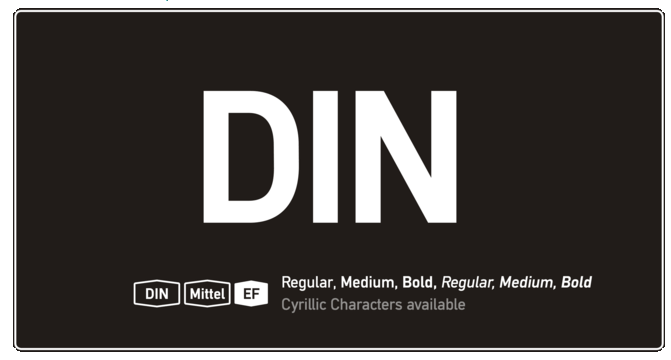 DIN font is a combination of a variety of fonts with a unique and stylish outlook to make the design beautiful. In 1975, the German government set DIN font as the national standard system, also as an acronym for German Standards Association. 
Each letter is strictly aligned with the vertical and horizontal grid, also the width of the letter is also regulated. DIN font enables users to draw each letter within 1 or 2 strokes, no extra embellishment is needed. It conveys a sense of geometric aesthetic. 
Used for: Signature, street signs, road signage, etc.
How to get it: https://dl.freefontsfamily.com/download/Din
3. Futura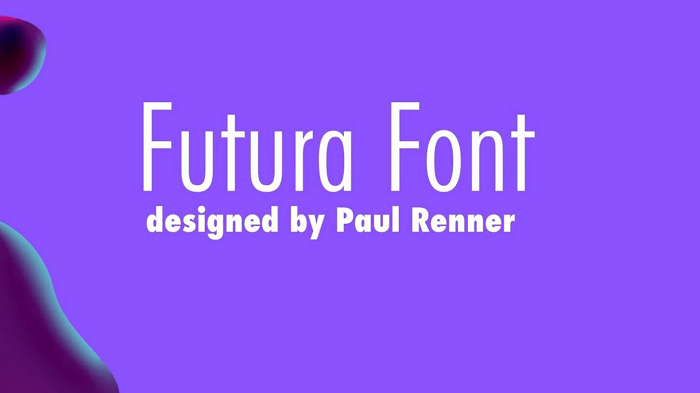 Back in 1927, Futura was designed based on modern geometric shapes and being particular in the circle and became a stunning geometric sans-serif typeface. This font was designed by Paul Renner and now this font has become an elegant and powerful font family in the digital era.
Futura emphasizes vertical and horizontal hard strokes, using geometric structure and applying mathematics to calculate their size. It's a stylish font that omits the tails of J, T, and uses a single layer on A and G.
Used for: Social media, videos, movies.
How to get it: https://dl.freefontsfamily.com/download/futura
To make use of Futura directly on your product or logo, you can't miss EaseUS LogoMaker. It'll make your product stylish and expressive with this font:
4. Gill Sans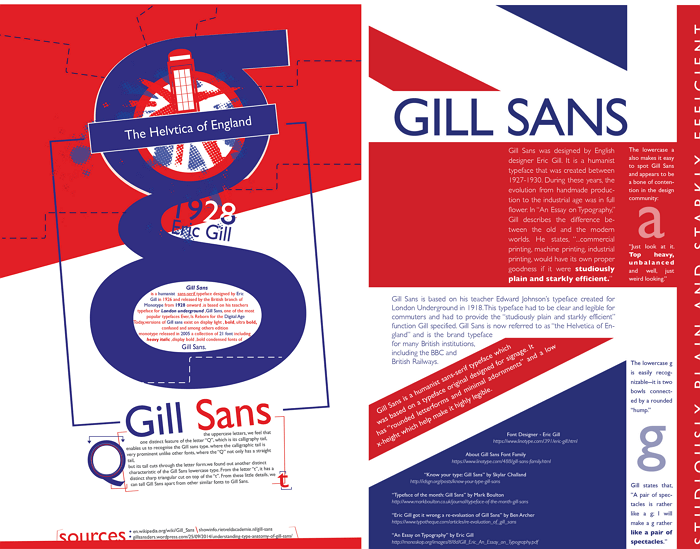 Gill Sans is one of the most popular and widely used sans-serif fonts. It was released by the British branch of Monotype in 1928 and designed by Eric Rowton Gill. Gill Sans is based on Underground Alphabe which was designed by Edward Johnston in 1916.
Gill Sans is structured in a classic style, with a strong calligraphic style in strokes and a geographic character. Due to its fresh, simple, and distinctive character, this sans-serif font combines acute angles and subtle curves, making itself outstanding on any type of layout.
Used for: Designing, front page, books, retail store interiors, menus, social media ads, banners, etc.
How to get it: https://dafontfamily.com/download/Gill-Sans-Font/
5. Goldplay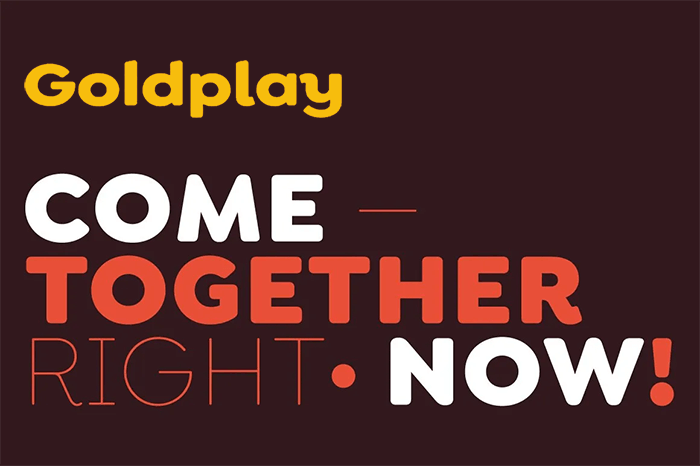 Goldplay is an evolution of Isidora Sans featuring rounded soft terminals designed by Enrique Hernández for Latinotype, giving a friendly and expressive look to readers.
Goldplay is regarded as a modern sans-serif font by Latinotype. Being minimalist and stylish round, this font makes design fresh and innovative, and it also conveys a friendly and expressive look. It comes in 7 weights, from Thin to Black, and matches italics, having 28 fonts in total. 
Used for: Headlines, Logo, branding, books, magazines, motion graphics, Web, and TV.
How to get it: https://www.freefonts.io/downloads/goldplay/
For quick access to brand your product or create logos with a favored font like Goldplay, free EaseUS Logomaker is here to help:
6. Helvetica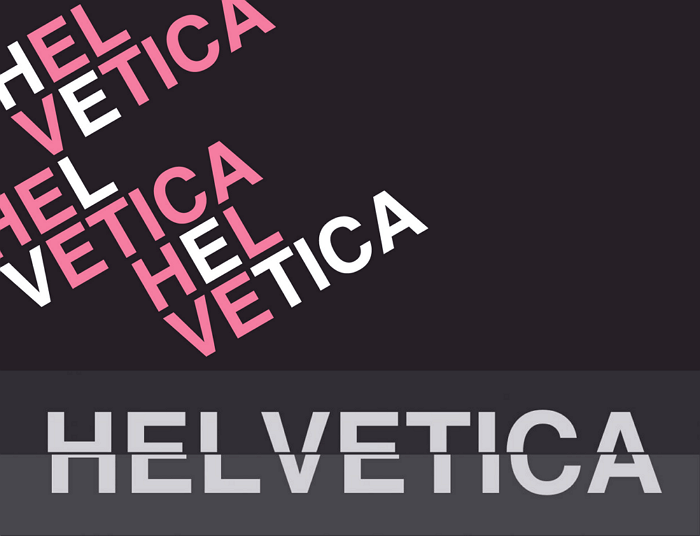 Helvetica is the other one of the most popular and famous fonts in the world, designed by Max Miedinger in 1957-1958. After being properly revised, Helvetica was released by Linotype AG. 
The design of Helvetica is nearly perfectly neutral, matching with the trending conception of pragmatism. With strict structure, no decorative elements, Helvetica gains a high recognition over other typefaces. It gains the favored love of many graphic and web designers.
Used for: Email templates, PowerPoint presentations, books, Newspapers, Newsletters, directories, menus, social media ads, banners, graphics, banner and re-targeting ads, images for websites and blogs.
How to get it: https://dafontfamily.com/download/helvetica-font/
Do you want to use the most popular sans-serif font to brand your product or set a logo? EaseUS Logo Maker is ready here to help:
7. Helvetica Now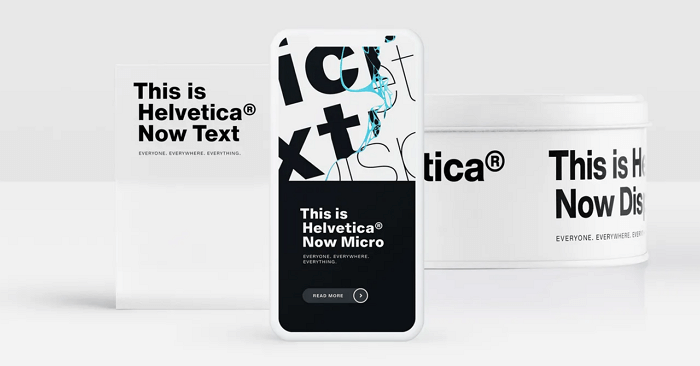 Helvetica Now is a recent-year released type font (in 2019), and it quickly becomes one of the most common and beautiful sans serif fonts with the legacy design.
Helvetica Now is based on Helvetica and Neue Helvetica typeface, introducing a number of improvements. This new font is available in three optical sizes - Micro, Text, and Display. It comes in a range of weights from Thin to Black with carefully combed spacing and kerning. 
Helvetica Now is legible and stylish based on Helvetica, also it brings a new look and utility with its neat and clean structure. These features make Helvetica Now text easy to read and expressive for conveying information.
Used for: Graphic design, poster, banner, ads, social media, books, etc., almost everything. 
How to get it: https://hello.monotype.com/Helvetica-Now-Download.html
8. Jeko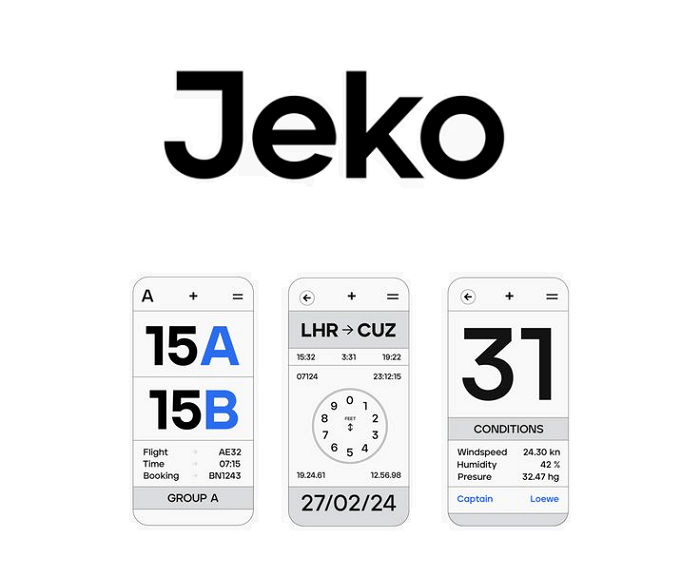 Jeko is a new geometric sans-serif font designed by Ellen Luff. Being born with strong elementary shapes, Jeko is structured with clean circles interwoven with modern cuts and sharp edges. 
The design of this font makes Jeko distinctive. The simplicity and elegance of classic geometric typefaces add a fresh and stylish outlook to this font. Jeko has been designed as a variable font, offering multiple options and access to unique type looks. 
Used for: Graphic design, interface design, etc.
How to get it: https://ifonts.xyz/downfile/3e51ff8bc5046aa6c8d27e16bcafb6fc.238379
9. Olivetta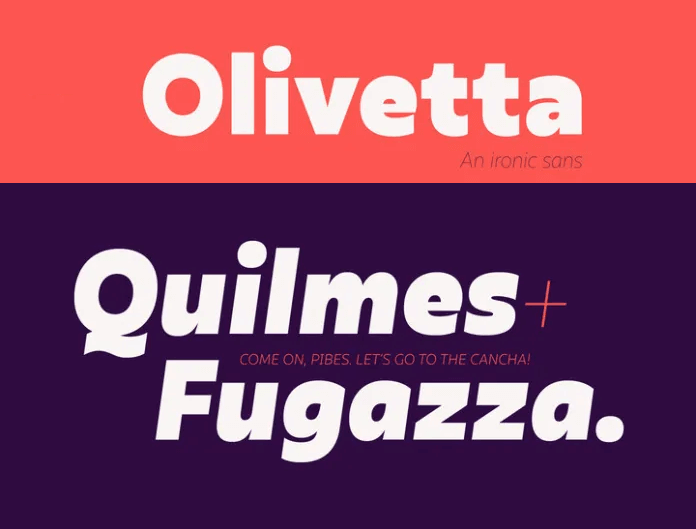 Olivetta was designed by Alfonso García, aiming to help designers who are looking to harness the power of words ad images. This font has a strong contrast between thick and thin strokes within lowercase letters, expressing a strong visual strength. 
Olivetta comes in 10 weights with matching italics. Each style contains more than 400 glyphs that include alternates.
Used for: Posters, short text, branding, editorial design. 
How to get it: https://ifonts.xyz/downfile/947659ecceec8ae8274658c4fb619a1e.164229
10. Open Sans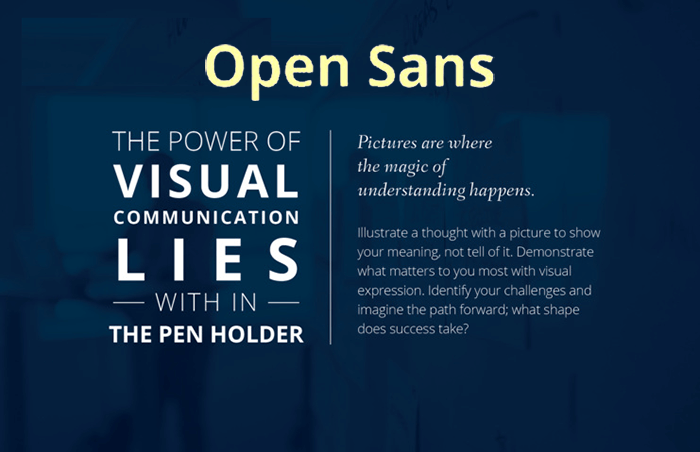 Open Sans was designed by Steve Matheson, released in 2010, and it now comes in 10 styles, from light to extra bold. This font is simple, clean, and conveys a professional sense. This font has many subtle characteristics, including the capital J with a descender beyond the baseline.
Open Sans looks beautiful in both small and large sizes, and its extra bold form looks even pure perfect. 
It's another common sans serif font that owns a wide range of lovers over the world. 
Used for: Newspaper, books, posters, etc. 
How to get it: https://www.1001fonts.com/download/open-sans.zip
11. Optima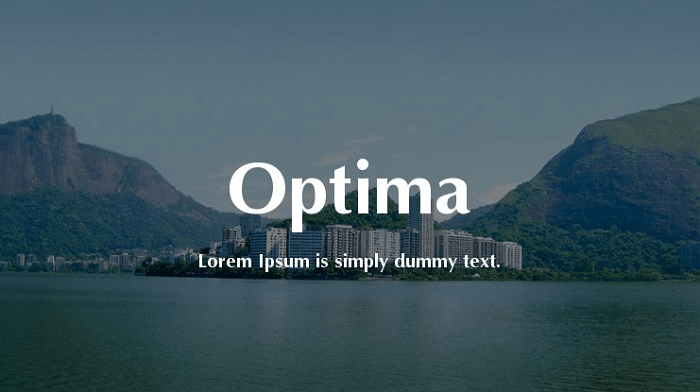 Optima is regarded as a humanist sans-serif font designed by Hermann Zapf and released by D.stempel AG foundry in Germany in 1958.
Once released, Optima gains high popularity as this typeface gains comparison between Garamond and Centaur font, and also shares similarities with these two fonts. 
The shapes, weight, and clear typeface make Optima outstanding in conveying a strong visual impression. And it makes the designs unique with the curves in letters. 
Used for: Posters, covers, logo, and graphic designs, etc. 
How to get it: https://dl.freefontsfamily.com/download/Optima-Font/
12. Proxima Nova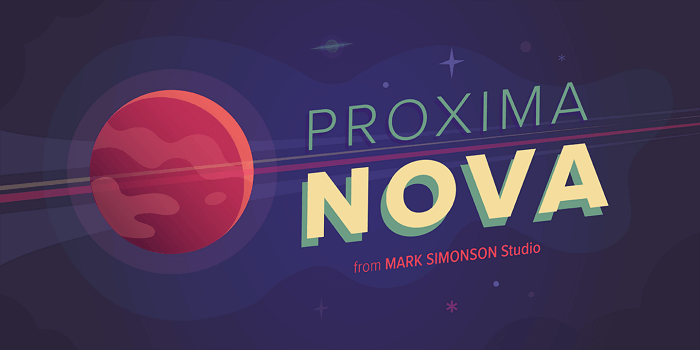 Proxima Nova is another classic sans serif font that is highly popular world-widely. This font was released in 1994, owning a big family with 16 fonts and 7 weights. It's considered a less complicated and perfect design for use in website or print media design. 
The characters of Proxima Nova are clean in styling and simplify the conveying of content to its target clients.
Used for: Web design, WordPress plugins, Microsoft Word, mugs, t-shirt design, poster, etc.
How to get it: https://dl.freefontsfamily.com/download/Proxima-Nova-Font
13. Roboto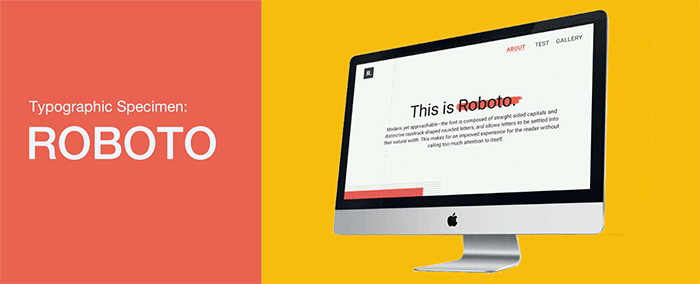 Designed by Christian Robertson, Roboto is now the official font family of the Android operating system. This font comes in 28 styles with weights from thin to ultra-bold. 
Its modern design, combining the best aspects of classic fonts like Helvetica, Univers, etc., Roboto is slightly condensed, allowing add more characters per line. 
Roboto has huge language support, making it more friendly and suitable for most usages that you can think about. 
Used for: Adobe Creative Cloud, text, cover page, graphic design. 
How to get it: https://www.1001fonts.com/download/roboto.zip
14. Trust Sans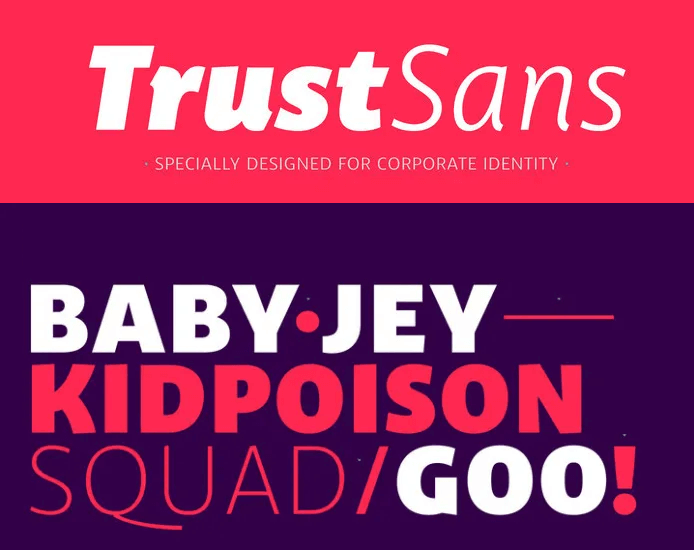 Trust Sans was designed by Antonio Mejía and released in 2019 by the foundry of Latinotype Mexico. This font aims to provide designers with a stylish and functional typeface in a variety of branding projects.
This font combines clean shapes of two contemporary sans serif sub-families - a standard, formal font and a more casual, version. 
Used for: Editorial design, immersive text, corporate identity, branding, and packaging.
How to get it: https://ifonts.xyz/downfile/f3a00f5143c85c2aef6758a5515fa9d2.166560
15. Visby
Visby is a geomtric sans serif font, designed by Connary Fagen. The design of this font comes from the inspiration of the Arctic with its stark beauty of the region. It contains wonderful rounds in letters, making it appealing and gentle on any screen. 
Thanks to its simplicity, Visby works well in a host of projects, and you can also apply this font as a central font or headline based on its weights. 
Used for: Consulting brands, recruiting adds, tech ads, 
How to get it: https://fontshub.pro/font/download-full/5c692c9a30732d049e025411
Become Creative in Your Brand, Logo, Product with Best Sans Serif Fonts in 2021
Sans Serif fonts make text, graphic design, website, cover, poster, and logos for your product, service, and the company outstanding, conveying reliable, professional, and informative sense. 
This page covers the 15 best Sans Serif fonts in 2021 to make your brand look great and outstanding. If you are looking for an easy and outgoing solution to brand your product, generating an impressive logo with Sans Serif fonts, feel free to test and try our logo maker here:
Let's get started here!