How to promote your company's name and stand out from competitors? I guess this question has been on your mind for a long time, especially on logo design. A logo is the first step to establishing a company's reputation and brand image. Successful brand marketing can quickly gain market share. Companies have many different types of logos to choose from. In addition to complex graphics and text designs, they can also choose plain text logos - Wordmark logos.
As Buzzword said: "The logo and wordmark … is a strong, modern symbol of quality, energy, and stability serving as the visual centerpiece of our brand … Individual unit wordmarks are available in the Guide and should not be altered in any way."
This guide is suitable for beginners to know the meaning of the wordmark logo, examples, and fonts. Then the free wordmark logo creator - EaseUS Logomaker, will help you!
Blog's Content:
What Is the Meaning of Wordmark?
Wordmark logo design is a type of logo design. It refers to the combination of words letters used in the logo of goods or services. Although Wordmark logo design is the main form of logo design, many enterprises or brand logos will choose to use this logo directly or use the alphabet logo. Because the wordmark logo design has the advantages of clear expression, good visual effect, ease to recognize and remember, the trademark design tends to be more and more text. Wordmark logo design seems simple, but it is more challenging for logo designers. 
What Is the Difference Between A Logo and A Wordmark? 
Wordmark vs. logo
The difference between a logo and a wordmark is that a wordmark is a text-based logo dominated by initials or company names. Famous wordmark logos include Coca-Cola, Google, vista, etc. The logo contains an image centered around an icon. Famous logos include Apple, Nike, Twitter.
The main advantage of fonts is their simplicity. Logos containing lines and symbols are often too complex, and the design process can belong. Such icons may seem overly complicated. At the same time, consumers may be confused about the actual meaning of the image, as there is no text on the icon to explain it. In addition, different companies may have similar logos, leading to more misunderstandings.
As a result, this can lead to brand confusion and low consumer recognition. Wordmark logos are great if you want people to know your brand and build a formal and historical image, but they have disadvantages. Unlike logos, which can visually communicate, wordmark logos lack some artistry and are unsuitable for longer brand names. 
Most Famous Wordmark Logo Examples (For Inspiration)
Like alphabetic logos, wordmark logos are typeface-based designs that focus only on a business name. Think VISA and Coca-Cola. Wordmark logos work well when a company has a clear and concise title. The Google logo is a good example. The name itself is very engrossing, and what is memorable is that when combined with strong typography, the logo creates even stronger brand recognition. 
Google
The color on the Google logo makes the Google logo stand out.

Paypal
Paypal changes half of the letter color. Double P also leaves an excellent impression.

Flickr  
Its recognition depends entirely on the color difference.

Linkedin
The "in" letter has changed with blue background.

Armani
Luxury brands often use sans-serif fonts.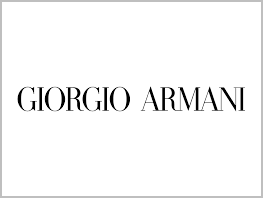 eBay
Colorful! eBay looks attractive and fun.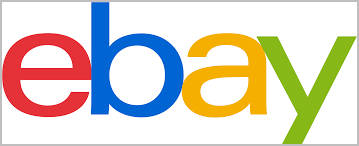 5 Must-read Tips about Wordmark Logo Design
The abbreviation of a business is often just a few letters. For customers to remember only two or three words after reading it, they use acronyms to achieve brand recognition.
Therefore, they use alphabet or alphabet symbols to represent the organization. Alphabet effectively simplifies corporate brand identification by shortening the first letter of a company's name. The critical point of alphabet logo design is the choice of font. The font choice should be relevant to the theme of the business and should be visible when printed on the business card. In addition, startups and young companies should put a full business name under the logo to ensure that customers know your business correctly. 
Without clear ideas, logo design won't go far. So we set up this part to help you figure out the essential tips.  
Wordmark Logo Idea 1: Replace Individual Letters with Shapes
Replace a letter in the text Logo with a different shape, and the creative letter shape 
can strengthen the brand differentiation identification and business association.
If your logo looks boring, change half the letters of your company's name or one of the capital letters to an unconventional style, like the Tube of YouTube (YouTube has a style box around the Tube) or the V of Vans. 
Wordmark Logo Idea 2: Use Two or More Colors for Contrast
If a letter is the main attraction of a Logo, color is a great way to differentiate the brand and attract attention. Use two colors in Logo design to create a visual contrast between colors and make your brand stand out! 
It is worth noting that people subconsciously associate different colors with different meanings, such as blue for professional, red for popular, and green for environmental protection. So when you choose a color for your logo, think about the message you want to send with the logo, and then decide which color best expresses that message. The fewer colors you have, the easier it is to get your news across without confusing your users. However, this is not absolute, as Google can also change the color of multiple letters.  
Wordmark Logo Idea 3: Pick A Unique Font
Although there are many different fonts styles, it is not easy to match them. Choose your font according to the tone of your brand, and change the letter you want to emphasize (like the third or fourth letter) to a different style than the current main font. 
What else? Let us recall the typography terms:
Style: oblique, italic, etc.
Casing: uppercase, lowercase, etc.
Weight: thick, bold, light, etc.
Letters in bold or capital letters look solid and trustworthy. On the other hand, thin notes are clear and easy to read. Therefore, consider the brand identity when choosing different font elements, which is the story your brand wants to tell.
See part of fonts in EaseUS Logomaker: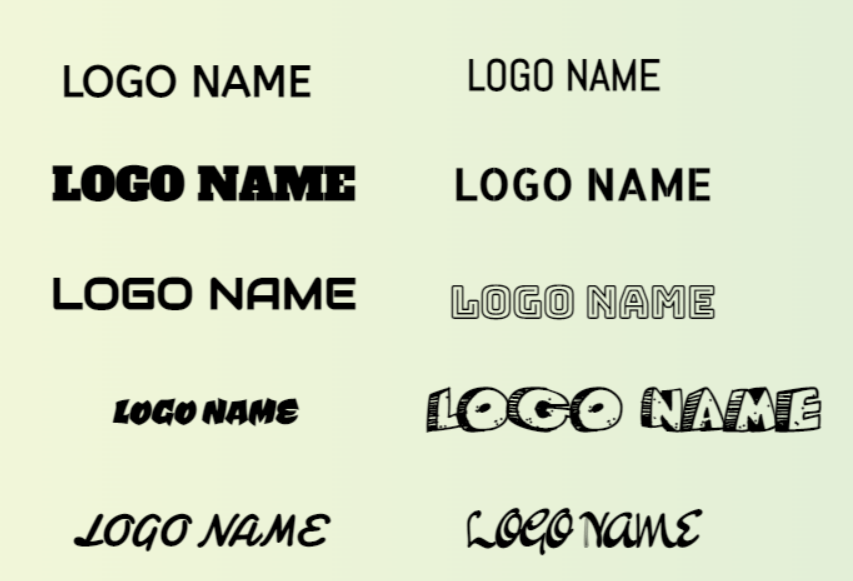 Related articles of san-serif font and cursive font:
15 Best Sans Serif Fonts for Logo, Brand, and Web Design in 2021
20+ Best Cursive Fonts for Your Logo/Brand Design
Wordmark Logo Idea 4: Use Suitable Kerning and Tracing
Speaking of font spacing, it refers to two design forms - Kerning and Tracing. These two terms are common among designers, but they often confuse many people. 
Kerning is the spacing between individual letters or characters. The higher the spacing, the farther the letters are apart. In logo design, kerning adjusts the spacing between a group of letters to make the spacing look clean and correct.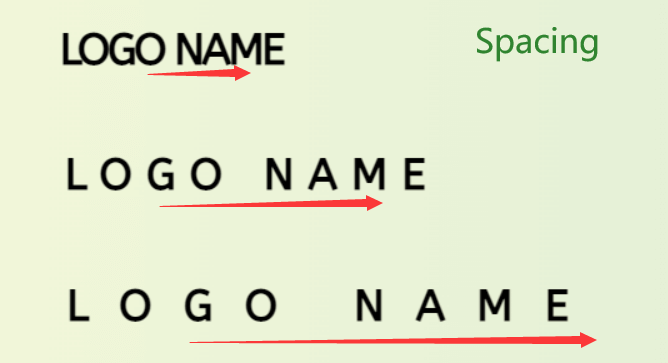 Kerning looks at Spaces between individual characters in the design, but tracing looks at entire text segments. A logo design will adjust the spacing, while a website article or physical book will focus on tracking since tracking confusion can directly affect the reader's reading experience.
Wordmark Logo Idea 5: Use Short Letters
If you have a short company name, display the complete company name. Once the font becomes too long, the design will look cluttered, and you can change the length using the first letter.  
How to Create Wordmark Logo with Free Logo Maker?
EaseUS Logomaker is an excellent online logo design website that will help you build a strong brand personality based on countless templates, colors, fonts, and categories. So whatever your business is, beauty, engineering, clothing, music, discord, etc., you can get the practical logo ideas to create impressive logos. With just a few clicks, you are free to contact 10000+ templates for all types of industries.
Click the button to start to design a logo:
Step 1. Choose a Template
Choose a category and select the shape that you like the most from thousands of templates.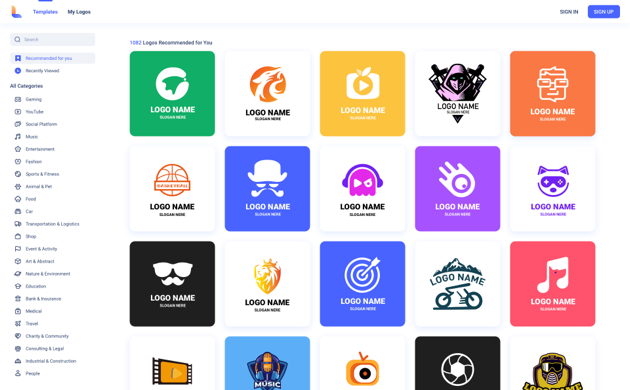 Step 2. Create & Customize Your Own Logo
Enter your brand name, set the color, font, and typography to make your logo unique.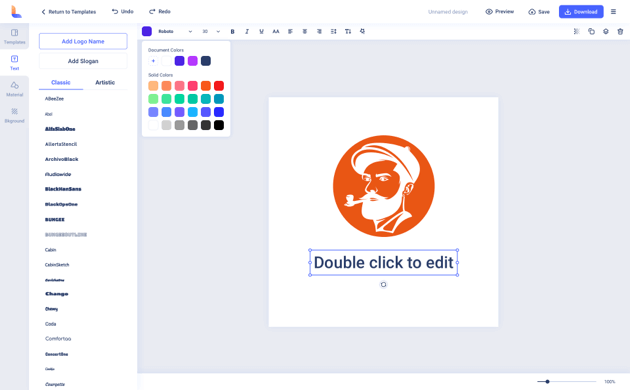 Step 3. Preview and Save
Preview or re-customize your logo. Once you get the desired logo, save and download it to start branding your product.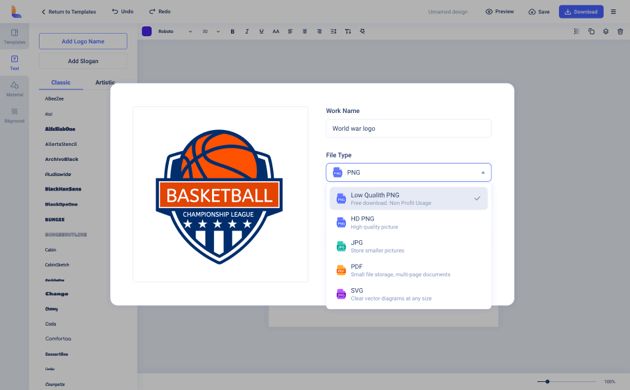 Wrap Up
Good corporate logo design can make your work full of creative sense and let people and brand information communicate. When we prepare to design the logo, we first need to collect and understand the relevant information. The success of a brand comes from a successful logo design. An excellent logo can create a sense of trust, promote the enterprise's fantastic culture, and spread the brand image. 
This article introduces some ideas and templates for the wordmark logo. To create a great logo, you can trust EaseUS Logomaker that we mentioned its features and how-to steps on the upper part.